NEW Clutch Plate for Ford New Holland 345C 345D LOADER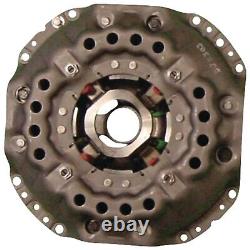 NEW Clutch Plate for Ford New Holland 345C 345D LOADER. Clutch discs deliver smooth engagement for quiet, long lasting and effortless operation. Direct-fit OEM replacement parts designed for perfect fitment in your tractor. Complete Tractor Clutches Complete Tractor offers an extensive line of clutches and related accessories to keep your tractor field ready for work days ahead. We work directly with factories to ensure each component is manufactured to our high standards. But because there is no middleman, we can offer these exceptional-quality clutches and accessories at low factory direct prices. With Complete Tractor clutch products, you'll get. OEM Level Quality - Our aftermarket clutches deliver performance that's equivalent to the ones made by OEM suppliers. Direct-Fit OEM Replacement Parts - Complete Tractor aftermarket clutches are designed for perfect fitment to replace the ones that originally came in your tractor. Organic and Ceramic Clutches - Organic clutch discs deliver exceptionally smooth engagement, resistance to wear and high strength. Ceramic clutch discs are high performance to tolerate heat buildup from frequent engagement and disengagement actions. Spring-Loaded and Rigid Clutch Discs - Spring-loaded clutches offer smoother and quieter operation with less vibration and noise. Rigid clutches offer a simplicity in design preferred by some people. Yes, you have a full year to make sure your clutch meets your expectations. Free alignment tool not available with LuK-branded clutch kits. Clutch Plate Inside Diameter: 1 7/8" Outside Diameter: 13" Type: IPTO Spline Count: 29 Fingers: 4 Notes: IPTO hub. Ford/New Holland: 82006027, C5NN7563AC, E0NN7563BA, X-A-82006027, X-A-C5NN7563AC, X-FC563AC, X-FC563AC NEW, X-S. Unless otherwise specified in the item listing on our website, on the receipt or packing slip, or in the following terms, Complete Tractor will accept qualified and conforming products for replacement for the period of 1 (one) year. Condition and free from damage of any type, including, but not limited to dents, scratches, cracks, abuse, defacement or indication of removed screws/fasteners or seals. Complete Tractor shall not be held liable for packages lost in transit. The customer may use this label to return the item to Complete Tractor free of charge. After the item is received by Complete Tractor for processing, Complete Tractor will send out a replacement unit. If you have a problem, we will take every step to assist you. NEW Clutch Plate for Ford New Holland Tractor 3300 3310 3330 3400 3500 4140. NEW PTO Plate for Ford New Holland Tractor 4600SU 5000 515 5190 532 5340. NEW Clutch Kit for Massey Ferguson Tractor 30 30B 30D 3165 35 40B 50 97.
NEW PTO Plate for Ford New Holland Tractor 4330 4340 4400 4410 445 DIESEL. This listing is currently undergoing maintenance, we apologise for any inconvenience caused.

---