Set of 10- 1U3252 Bucket Teeth Side Pin 8E6259 & Retainer CAT J250 Digging Long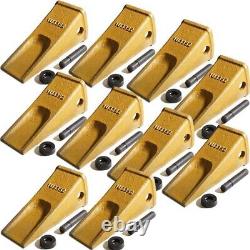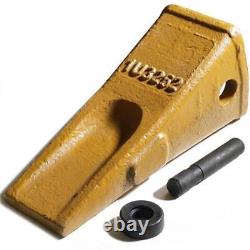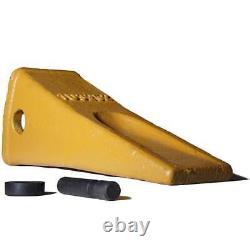 Set of 10- 1U3252 Bucket Teeth Side Pin 8E6259 & Retainer CAT J250 Digging Long. The long 1U3252 bucket teeth are made to OEM specs and quality of Caterpillar J250 teeth and come with the proprietary side pin and retainer. The high hardness tooth is perfect for your high power ground engaging machines digging hard dirt, gravel, or sand. This 10 piece set is enough for most buckets up to 84 wide. Features: - OEM Quality - Heat treated and tempered steel - High hardness - Tooth Part #: 1U3252 - Pin Part #: 8E6258 - Retainer Part#: 8E6259 Specifications : - Length: 7.7" - Width: 3.2" - Inside Width of Tooth Pocket: 2.2" - Pin dimensions: 3.2" x. 55 - Weight: 76 lbs. 4-Ft Notched Disc Harrow Attachment Pull Behind For ATV And UTV 2-In Towball Hit. Titan Attachments 10 Auger Stump Planer, Tree Stump Grinder, 2,000 FT/LB. Titan Attachments Set of 10 Replacement Rake Tines, Fits Landscape Rake for Cat. Titan Attachments 3 Point Quick Hitch Adaption to Category 2 Tractors, 4000 LB. At Titan Attachments, it's our mission to provide premium attachments at affordable prices. You can trust our attachments to get the job done because they're constructed with high-grade materials and quality welds. Titan Attachments and our engineers take pride in the final product because we design them for every customer and every job. And if you should have any question, we're here for you. Our product experts know the products, know your business, and can promptly answer your questions. We have a wide range of products that cover all of your needs. As part of its evaluation of any claim, Titan may request that additional information be provided and/or may also request an inspection of the Product. Absent any agreement made in advance of any third party undertaking any work to repair any Product, Titan will not be responsible for any such expenses or costs. Accident, damage, negligence, abuse or misuse. Improper assembly, installation and/or maintenance (if applicable). A purpose or application in any way different from that for which it was designed. Dispute Resolution by Binding Arbitration. The parties agree that arbitration shall be conducted pursuant to the provisions of the Federal Arbitration Act, 9 U. And administered under the Commercial Dispute Resolution Procedures established by the American Arbitration Association (AAA). The parties agree that should a dispute arise regarding the scope of this arbitration provision, the question of scope shall be delegated to the arbitrator(s) for determination. The arbitration proceedings and results are to remain confidential and are not to be disclosed without the written agreement of all parties, except to the extent necessary to effectuate the decision or award of the arbitrator(s) or as otherwise required by law.
To be eligible for a return, your item must be unused, in the same condition that you received it, and in the original packaging. All equipment leaves our warehouses in new, unused condition unless otherwise noted. We may replace items if they arrive defective or damaged.
You will be asked to provide photographs that provide a clear image of the quality issue in question. If you feel that you have received the wrong product, please contact customer service within 72 hours of receiving the product. If you receive a product and need support understanding its use or need support troubleshooting any issues you are experiencing, please reach out to us to ask questions or have us review videos or photos of your concerns. We try to get orders out as fast as possible.
You may cancel your order prior to the order being processed. Once it is processed, we cannot cancel the order.

---